TruBlue Total House Care has been named to Entrepreneur Magazine's 2021 list of Top Low-Cost Franchises.
TruBlue earned this ranking based on the scores it received in Entrepreneur's 2021 Franchise 500 ranking, a comprehensive analysis that looked at more than 150 data points in the areas of costs and fees, size and growth, franchisee support, brand strength, and financial strength and stability.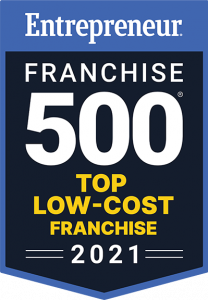 TruBlue was also named to Entrepreneur's Fastest Growing Franchise list.
TruBlue provides resources to help aging Americans stay in their homes rather than transition to a senior care facility. Some of the resources provided by TruBlue include Age Safe America-certified home safety assessments and modifications, handyman repairs, house cleaning services, yard work, seasonal tasks, and minor home renovations.
TruBlue's "House Care Plus" provides quarterly and monthly service packages, which traditional in-home senior care providers do not offer. While traditional caregivers can help look after the person, TruBlue Total House Care works to make sure the homes of seniors are safe and well-maintained through regular care. TruBlue is positioned to revolutionize the way families protect their loved ones and allow them to safely age in place.
TruBlue owners across the country have invested in their lives and futures by becoming a TruBlue franchisee. When you join the TruBlue franchise system, you are entering into a partnership with a proven business system. You become a small business owner, but, you get big business support, training, marketing and technology. Franchising provides entrepreneurs the opportunity to launch a nationally recognized business without the hassles of a start-up. TruBlue franchise owners are provided with hands-on training, business coaching, marketing and technology support.
To learn more about investing in a TruBlue Total House Care franchise, click here.