Rookie Franchisees Smash TruBlue Total House Care's All-Time Monthly Sales Record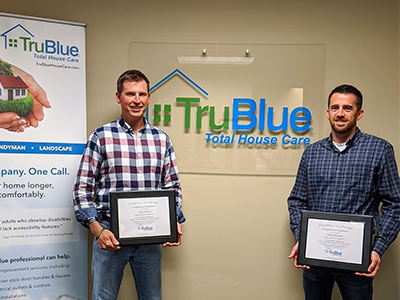 A rookie franchise team with TruBlue Total House Care, the first and only nationally franchised provider of full-service home maintenance and repair for seniors and busy families, has crushed the company's all-time monthly sales record despite opening their doors during the height of the pandemic.
New to business ownership, Daniel Elswick and Casey Martin opened TruBlue Total House Care of East Lexington, Kentucky, in May of 2020. Eleven months later, they shattered TruBlue's monthly sales record in March of 2021. They credit their success to the brand's solid business model and support systems.
"TruBlue really puts its franchisees in position to be successful right away," said Casey Martin, co-owner of TruBlue Total House Care of East Lexington"Daniel and I knew we had the work ethic, but we had no idea how to start a business. That's why we invested in TruBlue. The system they provide is simple to follow, and if you are willing to work hard, you can see quick success. I think we are proof of that."
Elswick and Martin, who have been best friends for more than 20 years, were drawn to TruBlue because of the incredible business model that allowed them to launch and scale their business quickly. The duo also wanted to start a business that provides them the opportunity to serve the community and help others.
"I was an engineer, but an entrepreneur at heart. I spent many years chained to a desk dreaming of owning my own business. TruBlue allowed me to make that dream come true in ways I could not imagine," said Daniel Elswick, the other co-owner of TruBlue Total House Care of East Lexington. "My experience with TruBlue has not only been rewarding financially, but also rewarding mentally, because we provide a service that is so needed in this area, especially for seniors."
The early success of TruBlue Total House Care of East Lexington mirrors the overall progress of the brand, which has seen impressive systemwide growth over the past year and has ambitious goals for the rest of 2021.
"We are thrilled to congratulate Daniel and Casey on their record-breaking success. They are the kind of franchisees we are looking for as we expand our footprint across the country," said Sean Fitzgerald, President of TruBlue Total House Care. "They launched their business in 2020, right in the middle of the uncertainty of the pandemic. Despite that, they are building a lucrative business because they are incredibly ambitious, passionate, and execute our proven system."
TruBlue, part of the Strategic Franchising family, provides resources to help aging Americans stay in their homes rather than transitionto a senior care facility. Some of the resources provided by TruBlue include Age Safe America-certified home safety assessments and modifications, handyman repairs, house cleaning services, yard work, seasonal tasks, and minor home renovations.
TruBlue's "House Care Plus" provides quarterly and monthly service packages, which traditional in-home senior care providers do not offer. While traditional caregivers can help look after the person, TruBlue Total House Care works to make sure the homes of seniors are safe and well-maintained through regular care. TruBlue is positioned to revolutionize the way families protect their loved ones and allow them to safely age in place.
TruBlue currently has more than 50 locations and is rapidly expanding across the United States. For more information on franchise opportunities available with TruBlue Total House Care, please visit https://trubluefranchise.com/.