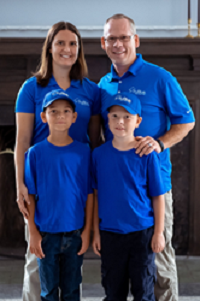 Experienced home health care nurse David Leach and his wife, Casie Leach, a property management and operations professional, recently left their day jobs to pursue a new senior-focused path as TruBlue Total House Care franchisees. Their biggest goal? Help seniors age in place.
"As a nurse who worked with in-home care, I am acutely aware of the challenges facing older homeowners who need reliable, quality services in and around their homes. Having the right in-home care provider is important, but if no one is taking care of the home itself, living there still won't be safe or practical. That's where TruBlue comes in," David said.
"We understand that people need creative solutions based on their individual situations. There are times when you may want a major remodel but what you need is just just a walk in shower or a ramp to come home from rehab. We can work with you to figure out the best plan of action for your home and your needs, especially for older adults looking to age in place," David added.
David and Casie are the latest in a growing list of franchisees and corporate team members with health care and caregiver backgrounds who are joining TruBlue. In June, TruBlue announced that Jennifer Corder, a nurse and former Director of Client Care for an in-home, senior care franchise, had opened a TruBlue franchise in Charlotte.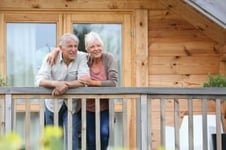 "I saw such a big need for these kinds of services when I was working in the in-home care industry, and if something like TruBlue had existed in the community I served, I would have been referring these services all the time. The house itself is such an important part of successfully aging in place safely and comfortably. By working with TruBlue, loved ones can have the peace of mind knowing that the seniors in their lives are living in safe, well-maintained homes," Corder said.
TruBlue President Sean Fitzgerald also previously worked in in-home care. He cites TruBlue's ability to serve seniors and families as a big reason he joined the company and one of the major selling points for new franchisees.
"TruBlue is an exciting franchise opportunity because, with my experiences in senior in-home care and my own personal experience, I know that the other half of the aging-in-place equation is the home itself. There are many companies providing in-home care services, but the caregivers can't take care of the house or make the senior safety modifications if needed. Nobody else does what TruBlue does on a national scale and our industry niche is wide open for decades as millions of people want to age in place for as long as possible."
To learn how what it takes to open your own TruBlue Total House Care franchise, visit http://www.trubluefranchise.com.