Home safety becoming integral part of home care, growth of TruBlue reveals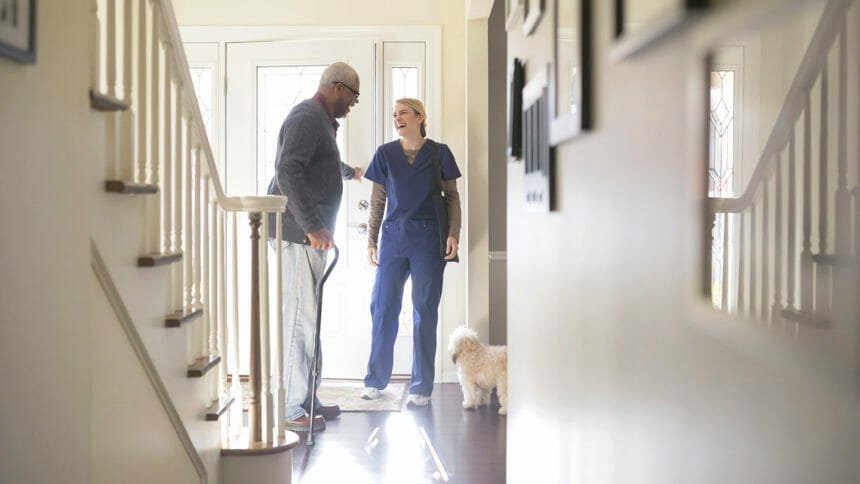 When Sean Fitzgerald became president of TruBlue Total House Care two years ago, he brought a unique perspective to the home services company. As a former home care executive, Fitzgerald became acutely aware of the integral role a house or apartment plays in the continuum of care for seniors.
"Our clients were struggling to maintain their homes," Fitzgerald told McKnight's Home Care Daily Pulse. "It was also an issue with caregivers because they are going into homes that aren't necessarily safe and you have workers compensation issues. I filed that in the back of my head."
Today, Fitzgerald is driving growth in Cincinnati-based TruBlue's Aging in Place program, which provides safety assessments and modifications, as well as maintenance, to seniors' homes. The company — with franchises in 27 states — has partnerships with home care agencies, such as Right at Home. In January, TruBlue will also launch a new partnership with The Helper Bees, a company that partners with insurance companies and health plans to help seniors age in place.
"The ultimate challenge that people have when aging in place is the home itself," Fitzgerald explained. "So our goal is to identify hazards and make simple modifications. It can be lighting; it can be grab bars.
Falls hazard
Modifications that include everything from grab bars to lighting to raised toilets can go a long way in preventing falls, which are among the biggest hazards for seniors. According to the Centers for Disease Control and Prevention, falls are the leading cause of injury-related deaths among adults age 65 and older.
With more than 70 million baby boomers aging in place and America's housing stock aging with them, home safety is becoming a top priority of many home care agencies.
Omaha-based Right at Home has embedded TruBlue into some of its initiatives, including its transition home program.
"When a patient is discharged from the hospital, we'll call TruBlue to do an assessment of the home to make sure it's safe for the patient when they arrive at home — no fall hazards, no running water or leak issues, there isn't mold," Right at Home Chief Strategy Officer Kerin Zuger told McKnight's Home Care Daily Pulse.
CAPABLE
Colorado Visiting Nurses Association has its own unique approach to keeping many of its elderly clients in the greater Denver area safe at home. It is a licensed partner of Johns Hopkins School of Nursing's Community Aging in Place Advancing Better Living for Elders (CAPABLE) program.
The program teams a nurse, an occupational therapist and a handy worker to assess the safety of seniors' homes to ensure they can live there safely. Colorado VNA has partnered with a local Habitat for Humanity chapter, which sends out volunteers to make the home modifications.
Colorado VNA Program Manager Amanda Goodenow told McKnight's Home Care Daily Pulse the association doesn't yet have data to determine if the four-year-old program has prevented falls, but she believes it is helping many clients remain safely in their homes.
"From our perspective, most of our clients have increased their independence with dressing and bathing and toileting and with what we call their activities of daily living, such as cooking and cleaning and laundry," Goodenow said. "And their depression has also improved."