TruBlue of Yorktown Earns Two Prestigious Awards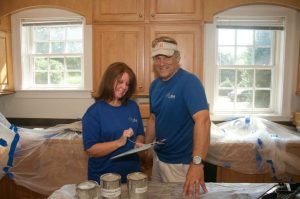 Kay and Tim Diemont, the local owners of TruBlue of Yorktown, have been recognized with two prestigious company awards – TruBlue Franchisee of the Year and the TruBlue President's Award. Both awards were presented at the company's conference in Las Vegas on February 19, 2019.
TruBlue Total House Care Franchise President Greg Platz said the Diemonts were recognized with the Franchisee of the Year Award because of the work they are doing to grow their business locally and the President's Award because of the positive impact they have had on the TruBlue brand and on the franchise as a whole.
"Kay and Tim were the pioneers of the TruBlue franchise – they were the first to invest in TruBlue and they had a vision for the future. Their hard work and dedication has helped them build a successful business in Yorktown while paving the way for the success of the TruBlue owners who followed in their footsteps and those who will join us in the future. They are always willing to talk to potential and existing franchisees and we all learn and grow from their experience, which is immeasurable," Platz said.
Tim and Kay opened TruBlue of Yorktown in the Spring of 2013 and they've been able to grow the business by about 25 percent each year since they opened. In addition to working with residents and property owners, the Diemonts also work with military housing departments, senior apartment complexes and apartment buildings. They currently have 20 employees and 8 wrapped PT Cruisers.
"Tim and I were humbled and grateful for both awards – TruBlue Total House Care is a great concept and, even before we took the final steps to purchase our TruBlue franchise, we never had anything but positive feedback from our family, friends and coworkers. We even had customers before we opened because they were excited about our On Call to One Source business," Tim said. "The President's Award is a wonderful thank you for spreading the word about our brand and being chosen as Franchisee of the Year is not only exciting for us, but for our employees and our customers. It means they are part of something special – that their hard work has not gone unnoticed and that them helping us spread the word about our business made a difference."
"We realize there are other franchise owners across the country who are working hard to grow their businesses and we feel like ambassadors for them as well. We didn't receive the Franchisee of the Year Award – we want to share it with everyone," Kay added.
The Diemonts say that spirit of sharing is part of what makes TruBlue unique. Over the last six years, as the business has grown, the Diemonts have been active in helping the franchise tests new services and technologies and they've built relationships with other franchisees that have made the whole system stronger.
"We know that we are a part of a much larger picture. The level of success of the TruBlue brand is directly tied to the overall growth of the entire franchise. Learning and testing new things and concepts is what keeps us from becoming stagnant and allows TruBlue to continue to stay a step (or two) ahead of the local competition," Kay said. "We are always striving to better our service standards and further develop our relationships with our customers. We love to share success stories with other franchise owners and receive feedback from them on ideas that may work in our market. This communication enables all of us to move forward and minimize the amount of mistakes we make in our business plans. We are a Family all with the same objective, SUCCESS."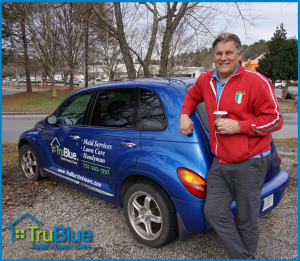 All TruBlue franchises are fully insured and bonded and all employees are background checked. To learn more about TruBlue of Yorktown, call (757)243-1297, email tdiemont@trubluehousecare.com or visit http://www.TruBlueYorktown.com.