Brian Winton Welcomes TruBlue to Chattanooga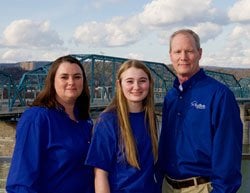 The United States Air Force Veteran, Brian Winton, is excited to launch his first business, TruBlue Total House Care of Chattanooga, TN. He is launching with the support of his wife, Gail, their three daughters, Sidney, Amber and Peyton, and their two grand-daughters, Kennedy and Kinley.
Winton saw the need for a business like TruBlue because there are many "fly-by-night handyman services" which often lack professionalism. This company ensures that all employees are bonded, insured, background checked and committed to providing quality work.
After serving in the United States Air Force, Winton worked at FedEx Express as a courier and a team leader for the past 24 years. Winton also stayed active in his community by serving as a youth leader for the last 20 years and as a youth pastor.
Brian Winton and Family
"I was looking for a change and, after months of consideration, I went to the TruBlue corporate office to meet the team and learn about the franchise. I was impressed with the professionalism of the staff and the TruBlue franchise itself," Winton said. "Last year, my 78-year-old mother fell and broke her hip. I have a family, but not close by, so I was the one who needed to help her make repairs to the house. That got me thinking, if I hadn't been there, who could we have trusted to come in and take care of all of that for her? I want TruBlue to be the resource others can turn to when they need help, whether it's for regular maintenance or a one-time repair," Winton said.
TruBlue will bring a full-service company to Chattanooga providing handyman, house cleaning, emergency repairs, yard/lawn care and seasonal services that are perfect for busy families, seniors or anyone who wishes to stay in the comfort of their home but not worry about the maintenance. TruBlue of Chattanooga will serve Chattanooga, Hixson, Soddy Daisy, Lookout Mountain, Signal Rock Mountain, Red Bank, North Chattanooga, and the surrounding areas.
For more information about TruBlue of Chattanooga, visit https://www.trubluehousecare.com/chattanooga.
Click here to view the original press release.