Tim and Kay Diemont Earn TruBlue Total House Care's Franchisee of the Year Award
TruBlue Total House Care, the national franchise focused on full-service home maintenance, is pleased to announce that Tim and Kay Diemont, the local owners and operators of TruBlue of Yorktown, have been recognized as the company's Franchisees of the Year. The award was presented at the company's national conference on February 4, 2020. This is the second consecutive year the Diemonts have earned this award.
"Tim and Kay are not only smart business owners, but also amazing people. In addition to their work locally with TruBlue, they are active in the franchise system – talking to potential franchisees, participating in training and even helping us to develop new systems – and they give back to their community. They are a powerful team and I'm looking forward to watching them continue to grow TruBlue of Yorktown," TruBlue President Sean Fitzgerald said.
"It was a nice surprise to be chosen as the Franchisee of the Year again this year. We are about to celebrate our seventh anniversary with TruBlue and we were able to take our head of maid services, Joan, who has been with us since day one, to join us on the stage. We appreciate the support of our community and our hard-working team, who make the work we do possible," Kay said.
Tim and Kay opened TruBlue of Yorktown in the March of 2013 and they've been able to grow the business by about 25 percent each year since they opened. In addition to working with residents and property owners, the Diemonts also work with military housing departments, senior apartment complexes and apartment buildings. They currently have about 20 employees and they serve Yorktown, Poquoson, Newport News and properties on the Peninsula.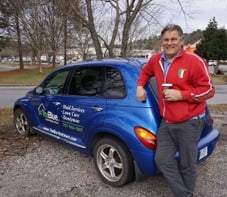 "We feel very fortunate to have been able to make a positive impact on our community by serving the senior and veteran populations here in our area as well as the busy adults who don't have time to take care of everything and want their spare time back. Owning a TruBlue has not only given us the opportunity to service our community but also to live a lifestyle that makes us happy. When you own your own business, you are in charge of your own destiny and as Tim always says, 'It truly is the American Dream,'" Kay said.
TruBlue of Yorktown is bonded and insured. To learn more about TruBlue of Yorktown, call 757-243-1297, email TDiemont@TruBlueHouseCare.com or visit http://www.TruBlueYorktown.com.