TruBlue Home Ally Franchise Signs California's Largest Comfort Keepers Multi-Unit Franchisee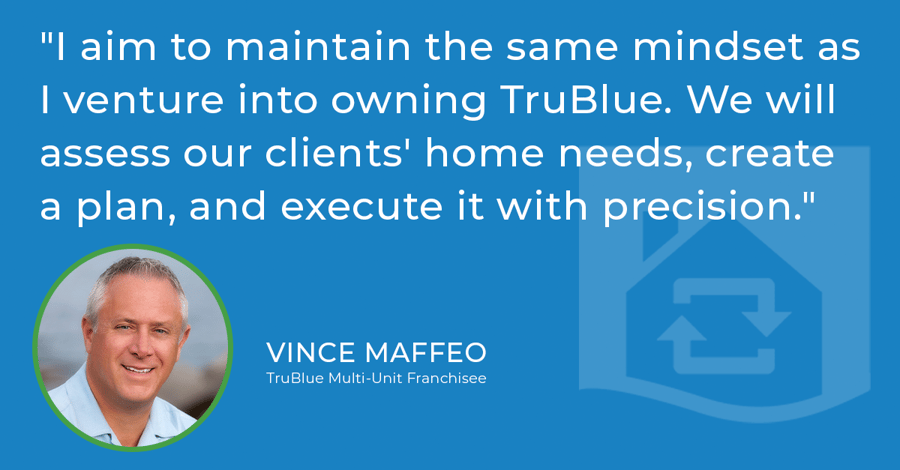 Fueled by the recent strategic partnership between TruBlue and Comfort Keepers, multi-unit franchisee Vince Maffeo is combining the two brands to create a one-stop shop for seniors and busy adults in Modesto.
TruBlue Total House Care, a nationally recognized franchise specializing in handyman and home maintenance services for seniors, is celebrating the signing of multi-unit franchisee Vince Maffeo. Maffeo's journey in franchising began nearly 15 years ago when he left his sales and marketing career in Florida to assist his father in managing multiple Comfort Keepers franchises in 2008. Over time, Maffeo expanded his business ventures with the non-medical home care franchise and currently owns 10 Comfort Keepers locations throughout California. When Comfort Keepers formed a strategic alliance with TruBlue last year, Maffeo saw it as a golden opportunity to offer a comprehensive service solution to his existing clientele.
Recognizing the convenience and benefits of owning a TruBlue franchise location, Maffeo said, "Buying a TruBlue means that my Comfort Keepers locations won't have to refer out the handyman and home services as we've done in the past. It's now a one-stop shop. Comfort Keepers provides care for the individual, and TruBlue provides maintenance to the home."
With last year's partnership, Comfort Keepers acknowledged TruBlue as a preferred provider of handyman services and senior home modifications. Now, Maffeo takes his commitment to the senior care market one step further by investing in his own TruBlue location, which he believes will enable him to better cater to the needs of aging adults.
"The senior population is incredibly important to reach since we have a significant number of seniors who are aging," Maffeo explained. "The average age of my Comfort Keepers clients ranges from 80 to 83. With over 10,000 people in this country turning 65 every day, we haven't even tapped into the baby boomer demographic yet. As they begin to require our services, the demand will increase exponentially. They will need professionals who can provide personalized care and home repairs."
TruBlue is well-positioned to meet this growing demand by focusing on ongoing home maintenance and handyman services for seniors and busy adults. Their Total House Care subscription program offers comprehensive assistance both inside and outside the house, including to-do list chores, handyman repairs, and general maintenance. TruBlue franchisees possess expertise in performing Senior Home Safety Assessments and can implement recommended safety modifications when necessary.
"I believe in executing and understanding how to provide the best service tailored to each client's needs," Maffeo emphasized. "At Comfort Keepers, we customize our caregiving approach for each individual and execute it accordingly. I aim to maintain the same mindset as I venture into owning TruBlue. We will assess our clients' home needs, create a plan, and execute it with precision."
Maffeo recently signed with TruBlue to establish a location in Modesto in 2023, but his ambitions do not stop there. Recognizing the benefits of offering personalized services for both health and home, he envisions continued growth with TruBlue in the future.
"Expansion is always part of the plan," Maffeo stated. "My primary objective is to leverage the brand's proven marketing strategies and apply them successfully to my existing client base. By combining TruBlue's tactics with my company's unique approach, I aim to create a dual marketing strategy that sets us apart."
TruBlue President Sean Fitzgerald expressed his excitement in welcoming Maffeo into the TruBlue family, particularly following the strategic alliance with Comfort Keepers.
"Vince exemplifies how existing senior care franchise owners can expand their portfolio by investing in TruBlue as an add-on service," Fitzgerald remarked. "By partnering with companies like Comfort Keepers, we further our mission of educating families and seniors on successful aging in place. Vince's decision to invest in TruBlue takes our partnership to the next level and is a great testament to the strength of our brand."