The U.S. population of Baby Boomers is 73 million strong, and the entire generation will be age 65 or older by 2030. People are living longer thanks to medical advances, improved nutrition, and an increasing awareness of the link between a healthy lifestyle and longevity. The growth of this demographic will drive the already substantial senior care market to an estimated $225 billion within the next three years. Franchise ownership provides ample opportunities for compassionate entrepreneurs to become a part of the growing senior care industry.
As we age, it becomes increasingly more challenging to manage household upkeep safely. The result is a greater need for senior-focused businesses to provide professional, dependable services around the home. And while a handyman franchise opportunity would offer a chance to work with homeowners of all ages, a senior home care franchise like TruBlueTotal House Care focuses on the aging demographic more specifically through programs and partnerships that make aging at home more accessible. TruBlue provides franchise owners with rewarding work, the potential for significant financial growth, and great personal and professional satisfaction through helping senior citizens in their communities.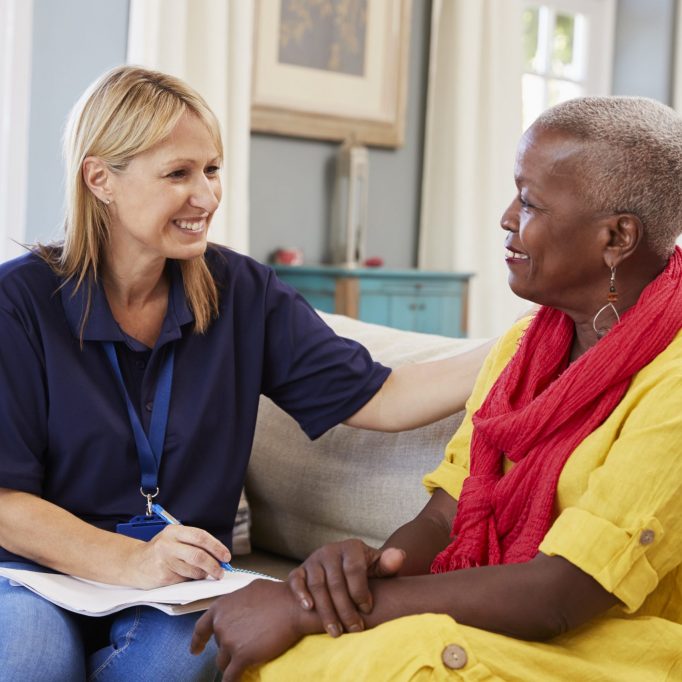 A SIGNIFICANT MARKET RIGHT NEXT DOOR
Adult children are often challenged with attempting to balance the needs of their aging parents and the needs of their own busy lives. Many families don't live in close proximity to one another, making it even more difficult for adult children to care for their aging parents.
As the population of aging adults continues to grow, so will the necessity for senior care businesses that can offer the same level of care and consideration that someone would expect from a member of their own family. When you open a TruBlue franchise in your community, you will be providing compassionate, professional home care that will put everyone's mind at ease.
LOW FAILURE RATE
Because of the steadily growing demand, there is a low failure rate among the best senior care franchise opportunities. Although the industry is recession-resistant, starting your own independent business inherently involves risk. Investing in a TruBlue franchise, however, means you'll have the backing of an established brand with no signs of slowing down. The support you'll receive from your franchisor is invaluable as you work to build your business within your community and provide world class service.

UTILIZE YOUR STRENGTHS
The most important characteristics of any successful senior care franchise owner are honesty, reliability, a caring nature, and patience. A TruBlue franchise allows you to do rewarding work that utilizes your strengths and your passion for helping others while enjoying all the benefits of owning your own business. With TruBlue, you can take advantage of everything a winning franchise model has to offer, including top-notch branding, marketing, training, and support that makes this a standout business model in the robust senior home care industry.
If you are driven and personable, owning a TruBlue franchise will provide you with many opportunities to contribute to your community. Word-of-mouth and in-person relationships help you grow your business. Above all, the greatest benefit of owning a TruBlue franchise is the ability to make a significant impact on the lives of your neighbors.
PERSONAL & PROFESSIONAL FREEDOM
As a Trublue franchise owner, you will be your own boss, but you will not be alone in the operation of your business. Franchise ownership allows for more flexibility in your schedule, the ability to build your own team and determine how you will scale your business, however, you have the support of a proven system and industry experts.
TruBlue provides comprehensive on-boarding, business coaching, ongoing marketing, and operational support by a team of experts whose priority it is to see you succeed. TruBlue is fully committed to the growth and success of their franchise owners, regardless of their background.
ENDLESS JOB SATISFACTION
Helping seniors maintain their independence and continue to enjoy a good quality of life is an incredibly satisfying occupation. At TruBlue, franchise owners take the time to develop relationships with our customers and their families in order to truly attend to their needs. Becoming a valued and trusted addition to our customers' lives brings its own reward. Additionally, a TruBlue franchise can be a sound financial investment that can potentially yield a strong return on investment for years to come.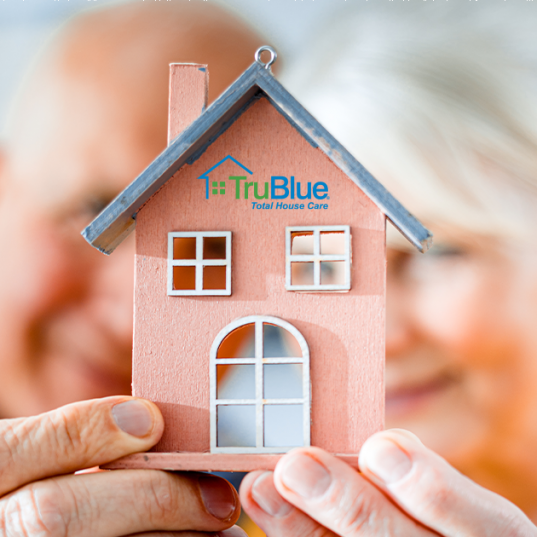 Whether it's installing ramps and grab bars, maintaining yards and gutters, or providing routine maintenance, the work is rewarding. Working in and around people's homes is an intimate endeavor, and it is a l privilege to be trusted with the task. The value of the services TruBlue provides cannot be underestimated.
A UNIQUE NICHE IN THE INDUSTRY
TruBlue was founded with the knowledge that there were no other brands across the vast senior care industry that were completely focused on helping seniors age in place.
While thousands of senior care businesses focus on health care or other aspects of senior life, TruBlue is the only national provider that specializes in Total House Care for seniors to help them enjoy their homes longer. Seniors can continue enjoying their golden years at home, and their families can gain peace of mind knowing that they are being taken care of by trained and caring home care experts.
TruBlue is who seniors increasingly turn to for ongoing home repairs, general upkeep, safety modifications, cleaning, yard work, special projects, and more. Knowing they can rely on TruBlue's services gives seniors peace of mind, too.
CHOOSE TRUBLUE
If you've been looking for a new business opportunity, consider franchise ownership with TruBlue. Within the broader senior care and home services sectors, TruBlue has found its niche as the only brand focused on Total House Care for seniors who want to age in place. Our "One Company, One Call" approach distinguishes TruBlue as the only complete property care provider straddling two high demand industries.
In addition to ongoing, year-round maintenance, repairs, cleaning, and yard work, TruBlue is certified to provide Senior Home Safety Assessments, which assist with fall prevention, accessibility improvements, and more. TruBlue believes that Aging in Place Starts with the Home™. Unlike other senior care franchises, TruBlue has minimal competition, a wide-open lane to grow rapidly for decades to come, minimal government regulation, and lots of prime territories still available throughout the U.S. Our franchise owners also have tremendous credibility and a competitive advantage as they earn Senior Home Safety Certifications. Certified franchise owners can conduct professional Senior Home Safety Assessments and then provide the necessary home improvements, repairs, and modifications to ensure safety, accessibility, and peace of mind to seniors and their loved
LEARN MORE ABOUT TRUBLUE BUSINESS OPPORTUNITIES
To learn more about TruBlue franchising opportunities, you can request more information here.