Randy Heuer Serves His Community in a New Way
Congratulations to Randy Heuer who is excited to launch his new business with the goal of serving the community!
Randy Heuer's career has always been focused on serving the community. Now he's looking forward to focusing on that mission in a new way with his new business, TruBlue Total House Care of Delano.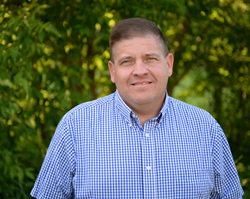 "TruBlue is unique because of the concept of complete house care and because of our standard of operations – we are insured and bonded and our team members are background checked and trained. We are a highly-professional local company backed by a national franchise that's focused on quality and service – not just getting the bid for one job," Heuer said.
Heuer is a life-long resident of the Delano area and is from Howard Lake. He's always worked in the community – he was a dairy farmer, then he worked for a dairy cooperative and then he moved into marketing and sales. He even did a stint as the host of a local polka radio show. Heuer's wife, Laura, is a kindergarten teacher and the couple has two children, 14-year-old Robert and 8-year-old Elizabeth. Heuer was looking at franchises that would allow him to work with seniors when he found TruBlue.
"I think it's important that, as we get older, we're able to stay in the community we've called home. Although there are companies out there focused on meeting people's medical needs so they can stay at home as long as possible, caring for the house itself is often an afterthought. I am launching TruBlue because I saw a need for a company that could fill that gap and provide seniors and busy families with a one-call-does-it-all solution to their house care needs. It's all about helping people enjoy their homes and protect what's typically their biggest investment through regular maintenance and care," Heuer said.