House Care for Seniors vs Senior In-Home Care
In-home senior care can be a high-risk, high-reward industry that is heavily regulated. Alternately, house care for the senior population is in high demand yet does not carry the high-risk that in-home senior care requires. House care franchises, like TruBlue Total House Care, focus on improving and caring for the exterior and interior of homes to allow seniors to age-in-place safely.
In-Home Senior Care
With in-home senior care, a single violation can incur huge fines, negligence can result in massive lawsuits, and obtaining and keeping the necessary licenses can be extremely expensive. Home care for the senior population provides seniors with invaluable services, without the headache of obtaining licenses and following stringent regulations.
House Care for Seniors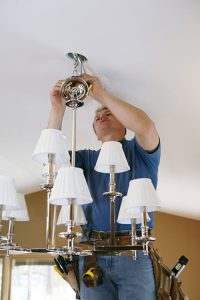 House care for seniors can be a more stable business model than in-home senior care and can be extremely profitable. There are many in-home care companies taking care of seniors, but not taking care of their homes. Regrettably, seniors who cannot take care of their own homes anymore are forced to leave them and end up in nursing homes and retirement facilities. This is where TruBlue Total House Care comes into play; providing maintenance and repair for their homes, while allowing seniors to age-in-place in an environment they cherish.
Just like the rest of the population, seniors want to be in control of their surroundings, inviting friends and loved ones over to enjoy their home together. Their age may demand that certain accommodations be made to their house, and unlike younger homeowners, they are far more willing to spend money to make sure their home is good repair, and a comfortable place to continue entertaining friends and family.
Owning a TruBlue Total House Care Business
As a business owner of a TruBlue Total House Care, the owner focuses on serving the senior population because they (or their families) see the need to tend to their home's upkeep and repair. TruBlue's ability to provide seniors with home repair services, house cleaning, and landscaping – all in one visit, allows seniors (and their loved ones) peace of mind.
If you are weary of starting a business in the senior care market? That's understandable. But there is no reason to be hesitant in serving seniors themselves. Follow this link to see how owning your own TruBlue Total House Care franchise can give you the chance to own your own home-based business in a growing, stable industry.