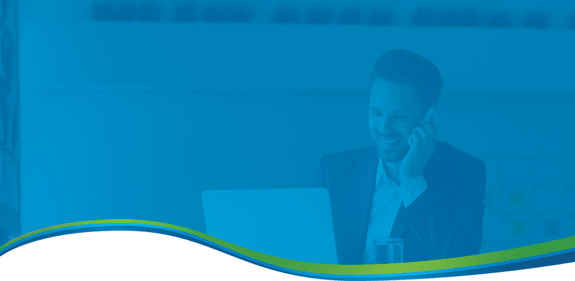 Explore Owning a TruBlue Franchise
Get additional information on starting a TruBlue in your area
Begin Your Journey
Interested in hearing more about becoming a TruBlue Franchisee? We have three unique ways for you to learn more. We are excited to speak with you personally, but if you don't feel ready to schedule a 10-minute call, no sweat! Feel free to download our Franchising Opportunity Guide to read more about this opportunity. Looking for something more interactive? Access our On-Demand Overview Videos to watch video content that gives you the most important information about becoming a franchisee on demand on your schedule.
Download our guide for expert advice and practical tips to kickstart entrepreneurial success.
"TruBlue's one-of-a-kind business model was exactly what we were looking for in a franchise. It's a business with a purpose that allows us to provide services to our community that were missing and so badly needed. We knew instantly that TruBlue was the right fit for us."
FREQUENTLY ASKED QUESTIONS
Answers to common questions about the premier total house care franchise opportunity!
Have a question not answered here? Schedule a call with one of our team members.
Do I need to be know anything about being a handyman or the handyman service?
No handyman or handyman service experience is needed to become a TruBlue franchisee. TruBlue seeks franchisees that are strong leaders and driven entrepreneurs.
What experience do I need?
You do NOT need direct experience in the senior care or home services industries! We are NOT looking for handymen or technicians. Instead, we are looking for people who have a burning desire to become a business owner and builder of teams, not a technical doer. People who want to seize freedom, flexibility, financial success, serving others, making a real difference, and being in charge of their own path and destiny. Bring the right heart, passion and drive, and we will train and coach you every step of the way. We recommend that you simply have solid business or management experience and have abilities in either project management/operations or sales/marketing…and eventually hire someone with talents complementary to yours. You will hire your technical staff...maids, handymen, generalists, supervisors in time, etc. There are plenty of good technicians out there looking for a professional brand, effective operating and marketing systems to keep them busy year-round, and a good leader with a good heart…YOU. You should be confident in your ability to manage people, possess an entrepreneurial spirit, a strong commitment to customer service excellence, and a drive to follow our proven systems as you bring the TruBlue business model to your community.
I've never owned a business before. Do you offer training and support?
TruBlue is led by a passionate leadership team who works tirelessly to ensure that your business will be a success from the moment you sign the franchise agreement. From the outset, we give you an exceptional training platform that includes getting certified, licensed and insured, hiring the right employees, how to market effectively, gain customers, build a base of referral sources, and a daily checklist to keep you on track and following our 90-day "secret to success" program. TruBlue will be with you every step of the way.
Who Will Be My Referral Sources?
Your number one referral source will be your recurring and highly satisfied customers…seniors and busy families. They will gladly tell their family members, friends, neighbors, co-workers, and social connections…both in person and on social media. And keep in mind, every homeowner or condo owner you meet and talk to every day is a potential client or referral source. Your customers are everywhere! Also, Realtors have a vested interest referring their clients to TruBlue, a convenient, reliable, one-stop shop to help their clients get their homes in tip-top shape quickly, so the property sells fast and for a premium price. Also, Senior Care Agencies, who take care "of the person", have a vested interest in referring their clients to you so you can take care "of their property" and allow their clients to "age in place" in a safe and well-maintained home for many additional years. So will all the other people and organizations caring about the elderly: geriatric medical practices, hospital groups, houses of worship, government support programs, and dozens of other senior support organizations and community centers. And finally, you will join your Chamber, a networking club like BNI, and set up a trade booth at highly effective shows and events. Everybody knows seniors and busy families and will want the best for them…TruBlue!
How much does a TruBlue franchise cost?
TruBlue is a low-cost investment opportunity with potential for high returns, with the total investment estimate to begin operations ranging from $65,050 – $91,400. TruBlue is a home-based business with low overhead and no buildout costs or brick and mortar expenses, making TruBlue far more affordable than other franchise concepts in the senior care or home services industries. The franchise fee for your first territory is $44,900…and if necessary, we have third-party financing partners that can help you evaluate financing options.
What are the financial requirement for franchising with TruBlue?
To franchise with TruBlue, you will need to have the required minimum liquid capital of $50,000 to open your own new business.
Will I need to be certified?
Yes, all of our franchisees and their technicians are required to be certified, licensed and insured. Requirements may differ according to your state regulations. We will help you understand and give you a plan to achieve these qualifications shortly after your initial training session. We will also help you get certified in Senior Home Safety by Age Safe ® America so you can perform Home Safety Assessments and provide senior home improvements and modifications.