Rookie Franchisees Casey Martin & Daniel Elswick Hit Record Sales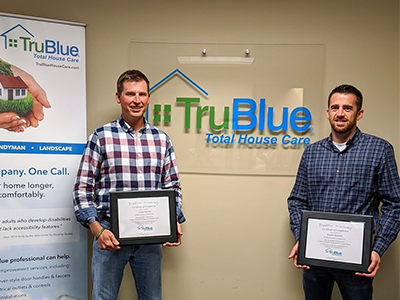 Get to Know Casey Martin and Daniel Elswick: Two New TruBlue Owners Making Things Happen
Casey Martin and Daniel Elswick opened their TruBlue Total House Care of the Bluegrass franchise in 2020 at the beginning of the Covid-19 pandemic and they haven't let that slow them down. Deciding to launch their own business was a huge decision for Martin and Elswick and, after looking at 3 to 4 other potential franchise opportunities, they landed on TruBlue Total House Care. TruBlue had the right balance of both proven systems and flexibility that aligned with their business ownership goals. The other franchises in the home improvement industry that they explored were either too rigid, not letting them play to their own strengths developed after years of experience in the construction industry, or they were too hands-off, not giving enough guidance on how to operate successfully.
Both Martin and Elswick attribute their successful rookie year to following the TruBlue systems and to never letting up on their hustle. Both left full-time jobs to pursue this dream of business ownership. According to both owners, failure wasn't an option and, after speaking with brand president, Sean Fitzgerald, they knew they would have the kind of support they were looking for to be able to build a business that would thrive and grow.
"We both had the technical skills, but we had no idea how to actually start a business and get customers. That is where TruBlue came in. With their support, we had 4 jobs lined up while we were still in our first week of training in Cincinnati!" said Elswick when asked about why they chose to invest in a franchise instead of starting on their own from the ground up.
We would like to congratulate TruBlue of the Bluegrass for their accomplishments over the past year. They are among the top performers across the entire franchise network due to their hard work and dedication to high quality work and excellent service. These rookie business owners and friends were the top performing TruBlue franchise in December 2020. They went from new to number one in less than a year!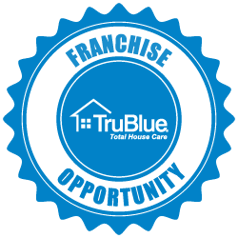 Martin has had a long career (15+ years) in the construction industry, from residential to commercial contracting, that began at a very young age with his father's company. According to Casey, "TruBlue is unique not only because, as a franchise, we are backed by a national company with the highest standards of operations and quality of work, but also because of the wide variety of work we can do for our clients. When you work with TruBlue, we can take care of everything from spring cleaning and handyman repairs to renovations and senior home safety assessments and modifications. It's really a one-call-does-it-all service." Casey Martin lives in Frenchburg, KY with his wife, Brooke, and their two dogs, Milo and Millie.
Elswick earned a degree in Civil Engineering from the University of Kentucky before building a career in construction and becoming a licensed professional engineer. While he had the opportunity to learn a lot of different skills in the transportation and commercial construction industry, he always knew he wanted to own his own business. "I think it's important to know that TruBlue is unique partially because our business is built on return customers and referrals, which you only get by providing great customer service and doing high-quality work. You don't have to worry about what you'll get when you work with us at TruBlue – we'll give you accurate quotes, we'll be on time, we'll do what we say we're going to do and we'll do it right." Says Elswick. Daniel lives in Mt. Sterling, KY with his wife, Kristi, their daughter, Analiese, and their dog, Bubbles.