TruBlue Total House Care of Vienna Is Now Open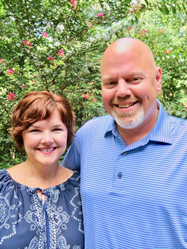 We'd like to send congratulations to experienced real estate professionals and husband-and-wife team Chad Akers and Carmen Hendricks who are pleased to announce the launch of their new house care business – TruBlue Total House Care of Vienna!
Hendricks and Akers both have backgrounds in real estate - Hendricks spent the first 20 years of her career in mortgage banking and the last five years as firm administrator of a local accounting firm. Akers has been a real estate appraiser for more than 20 years and specializes in new construction. What free time they've had in recent years has been spent working on their fixer-upper home in Oakton. They also have a Border Collie mix named Zoey.
"Chad and I often joke that we eat, live and breathe real estate. We have spent the bulk of our careers in it and we love it. There was definitely a need for a holistic, reasonably-priced approach to exterior and interior home maintenance in this area that could help seniors stay in their homes longer and be great for busy professionals, like ourselves, who want to spend less time working on their own homes and more time with family and friends," Hendricks said. "After months of searching for that solution, we stumbled across TruBlue Total House Care. We quickly booked a flight to TruBlue's headquarters in Cincinnati to learn more. On the flight back, we discussed what our next step should be and agreed. This was it. This was what we were meant to do."
In addition to their experience on the real estate side of things, Hendricks and Akers know what it's like to try to help a loved one maintain their home so they can age in place. TruBlue spoke to their own experiences too.
"We learned first-hand through helping my mother, who lives in a different state, how challenging it can be for seniors to keep up with home maintenance and repairs, which got us thinking… was there a better way? Trying to coordinate repairs from a distance or paying higher-than-market rate for repairs because we needed them done quickly while visiting was just not acceptable. We're looking forward to being able to bring this solution to our community through TruBlue of Vienna," Hendricks said.
"We both love this area, but have never felt like we've gotten to know the community or the people who live here, other than those we have met through work. We are excited that TruBlue gives us the opportunity to get more involved and put down roots. We want to be the neighbor you can trust with all of your house care needs," she added.
All TruBlue employees are licensed, bonded and insured. To learn more about TruBlue of Vienna, call 703-319-0959, email CHendricks@trubluehousecare.com or visit http://www.trubluehousecare.com/vienna.